Sellafield nuclear plant strike: Talks demand over pay dispute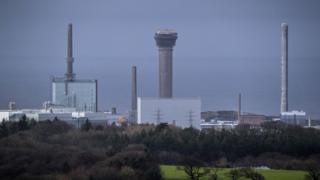 A union representing hundreds of workers at a nuclear reprocessing plant will set strike dates if management does not reopen "meaningful" talks in a pay dispute, it says.
Members of the GMB union at the Sellafield site in Cumbria are angry at an imposed 1.5% pay increase.
The union said "it takes two to tango and Sellafield appear unwilling to address what is a pay cut".
Sellafield Ltd said it believed the deal was "fair and reasonable".
"We made that offer based on company affordability and have been consistent throughout discussions with Unite, Prospect and GMB, who represent different sections of our workforce," a spokesman said.
Prospect had accepted the offer, he added.
'Macho attitude'
GMB members were "seeking a fair resolution", senior organiser Chris Jukes said.
"Sellafield management's macho attitude has got us to this point.
"Rather than trying to run the plant based on the size of their cojones, common sense and compromise should be deployed," he added.
A ballot by the GMB voted in favour of industrial action.
The union's strike committee is due to meet on Monday to decide strike dates.
About 2,000 members of the Unite union are also due to be balloted as part of the same dispute.
There were strikes in June and July in a separate dispute about grading involving 63 Sellafield firefighters who are also members of the GMB.