Storm Desmond: New Bell Bridge frame at Sebergham in place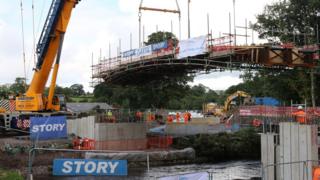 A 250-year-old bridge destroyed by Storm Desmond is a step nearer being replaced after a new framework was lowered into place.
Bell Bridge, at Sebergham, south of Carlisle, was washed away in December 2015 when record rainfall struck.
The replacement framework comprises 20 tonnes of steel, plus scaffolding and concrete panelling.
The "much more resilient" completed structure should open in November, Cumbria County Council said.
Built in 1772, the previous bridge was a single-span hump-back arch and was itself a replacement for the original which had been destroyed by flood waters.