Missing puppy Zeus found after fortnight on Lake District fell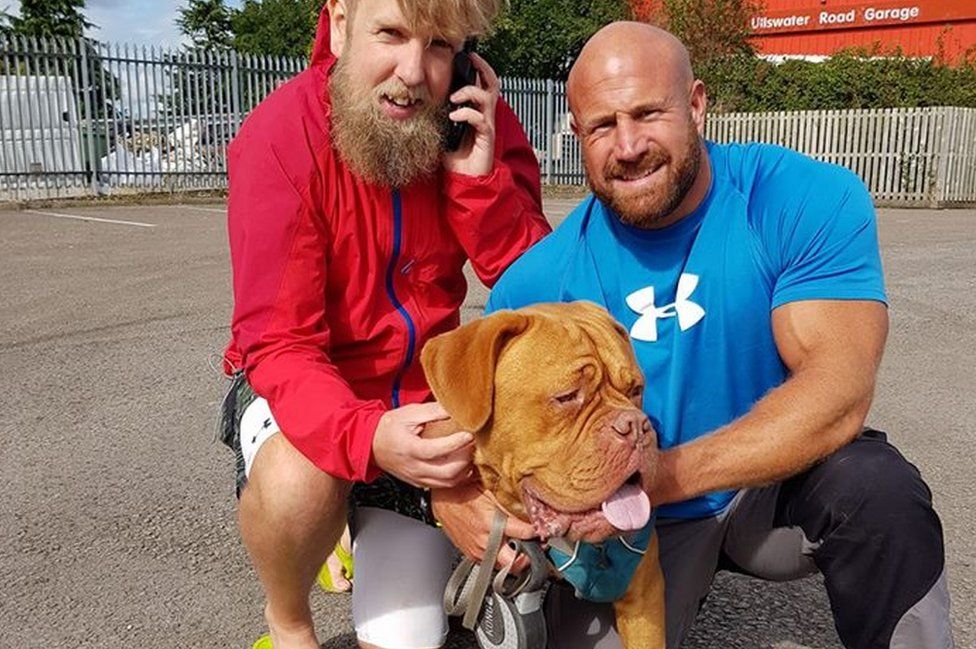 Two volunteers have been hailed as heroes for rescuing a dog that had been missing on a Lake District fell.
Zeus, a 10-month-old Bordeaux Mastiff, fled after being spooked on Place Fell on 31 August.
Experienced fell walkers Jez Starkey and Adam Briggs searched and found him ensnared in bracken on Thursday.
They gave Zeus a fortifying chicken sandwich and two protein bars before he was taken to a vet. Zeus is back home and is said to be in a good condition.
Hundreds of people had been searching for Zeus without any luck.
Mr Starkey said: "We are both quite experienced on the fell so thought we could help find Zeus.
"There was always hope he would be found and we are over the moon to have got him. I've been smiling ever since."
The pair had been searching for about four hours when they heard Zeus barking and discovered the dog.
Mr Briggs, a fell runner, got to Zeus first.
He said: "On first seeing Zeus I feared the worst, he was curled up, spine and ribs showing through his skin.
"I shouted his name and his tail gave a brief flicker."
Mr Starkey said: "His lead was all tangled with the bracken so he could only move a few feet.
"He was a bit scared of us at first but as soon as I pulled out the sandwich he was happy.
"He was obviously thin, but apart from a couple of tick bites he was in surprisingly good shape."
Zeus' owner, Tony McDougall, of Middlesbrough, had taken the animal with him to the Lakes on a day trip.
His brother, David, said: "We weren't giving up on finding him, but we were starting to think the worst. When the call came [to say he had been found] it was amazing."
Hundreds of comments were posted about Zeus' disappearance and discovery.
One commenter said the men had "earned a place in the Lake District walk of unsung legends".
Related Internet Links
The BBC is not responsible for the content of external sites.