Man wins Gurning World Championships in Cumbria for second time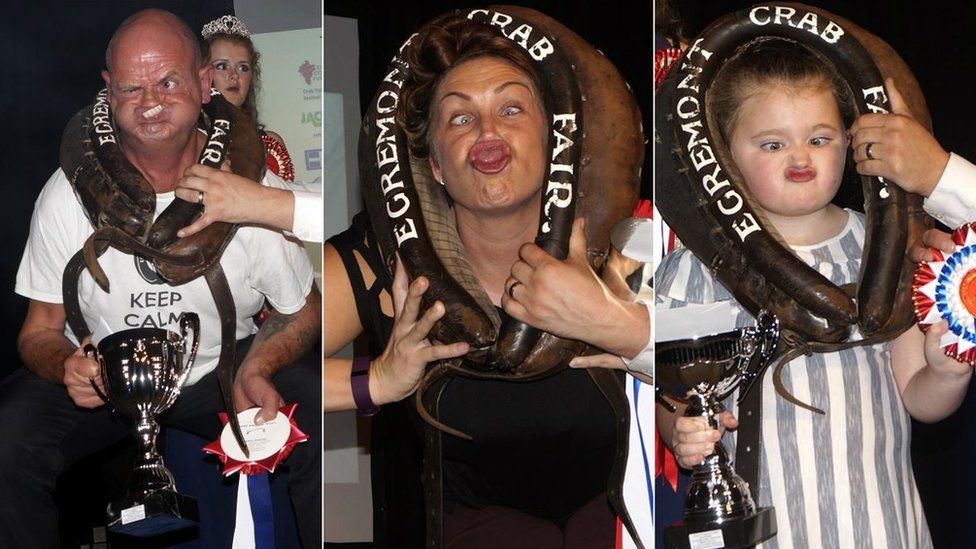 The World Gurning Championships in Cumbria has been won by a 50-year-old from Coventry for the second year.
The competition is part of the 750-year-old Egremont Crab Fair and attracted about 50 contestants in the men's, women's and junior sections.
Ady Zivelonghi said he was "delighted" to have successfully defended his title.
The women's winner was Claire Spedding, 30, and the children's section went to Lexie Park, six, both from Egremont.
The competition has rules - including a ban on make-up - though manipulation of false-teeth is allowed for those who have them.
The gurning contest is only one part of a series of traditional sports and events held as part of the Crab Fair, including horse and pony leaping and pipe smoking competitions.
Mr Zivelonghi has previously said his best gurning move is what he calls "The Predator", named after the extra-terrestrial creature in the Arnold Schwarzenegger film of the same name.
The Crab Fair was first held in 1267 and has only been interrupted by war.
The Lord of Egremont started a tradition of giving away crab apples, from where the fair gets its name.
The tradition continues today with the Parade of the Apple Cart, where apples are thrown to the crowds in the town's Main Street.
The modern day fair starts with a number of sporting events, including Cumberland wrestling.
Related Internet Links
The BBC is not responsible for the content of external sites.