Coniston church bells: Pub complainers silence 'noisy' chimes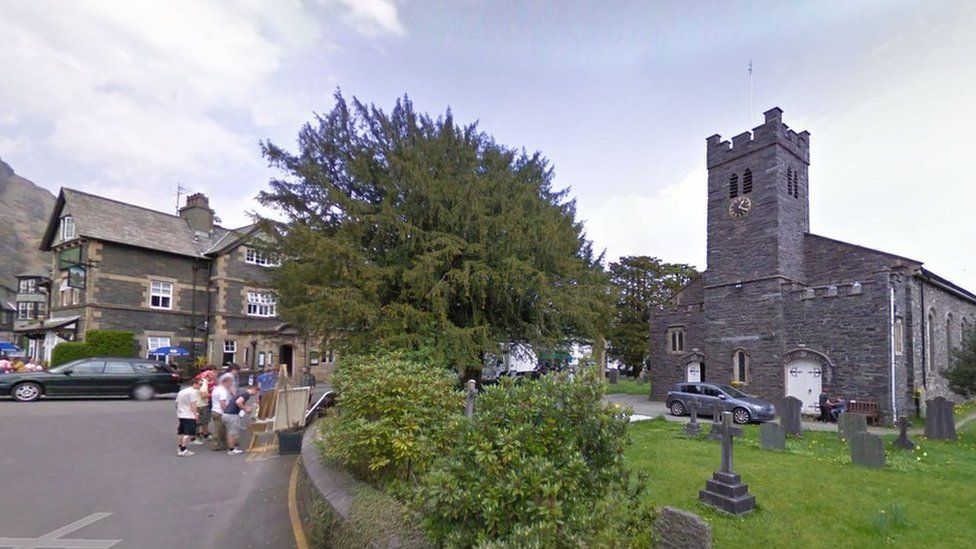 Bells at a Lake District church that have tolled for more than a century have been silenced after pub guests complained of sleepless nights.
A timer has been installed at St Andrew's Church in Coniston to stop the clock chiming between 23:00 and 07:00.
It follows complaints from the owner of the adjacent Yewdale Inn who said guests complained about the noise.
Some residents have criticised the decision, insisting the bells are "part of village life".
Jeff Hart complained to South Lakeland District council, claiming night-time chimes were a nuisance when guests at his nine-room pub were trying to sleep.
The council said following an investigation it had instructed church officials to take action to reduce overnight noise.
Mr Hart said: "It would just disrupt your sleep constantly. You're always on edge, especially when the big one comes at midnight.
"In the kind of job we have it's extremely stressful."
Mr Hart said complaints had been made to him in person and also negative comments had appeared on online review sites.
He added: "Living across from the church gives us a wonderful atmosphere. It's just, can we have some sleep please?"
But resident Anne Hall said: "I think for every one that says it is a problem, there are many others that say they like the sound of the country bells.
"It's part of our village life and when you hear them they give you a feeling of community."
A spokesman for South Lakeland Council said: "We received a complaint of alleged noise nuisance relating to the clock at St Andrew's Church in Coniston.
"It is our statutory duty to investigate all such complaints and in circumstances where environmental health officers establish there is a nuisance we always try to find a solution before serving an abatement notice.
"That is what happened in this case. We monitored the level of noise from the clock and advised the church accordingly.
"Since then a new mechanism has been fitted, silencing the clock from 11pm until 7am."
A spokesman for the Diocese of Carlisle said turning off the chimes during the early hours was a "reasonable compromise" in this situation and one that other churches had also adopted.
Related Internet Links
The BBC is not responsible for the content of external sites.