'Rock armour' to protect Settle-to-Carlisle line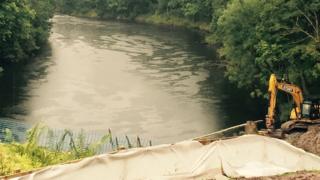 Huge boulders are being used to protect a rail line which was closed for a year by a major landslip.
The Settle-Carlisle line was forced to close in February 2016 after erosion caused 500,000 tonnes of earth to become dislodged at Armathwaite.
As part of the final phase of Network Rail's £23m repair work, 20,000 tonnes of "rock armour" are being packed into the banks of the River Eden.
This will protect the line from erosion caused by future heavy rainfall.
Network Rail said the new work meant that even if the earth did give way at that location, the rail line would not be affected.
In addition to the "rock armour", silt booms and new drains have been installed into the foot of the embankment.
This final phase of the Eden Brows repair is set to be completed in March 2018.
Martin Frobisher, managing director of Network Rail's London North Western route, said: "The future of this vital economic artery through Britain's most beautiful landscape is secure, thanks to the work of our brilliant orange army.
"With the major repair completed earlier this year, the rock armour gives this location a further layer of resilience against the increasingly topsy-turvy British weather."