M6 crash death accused was 'grossly speeding'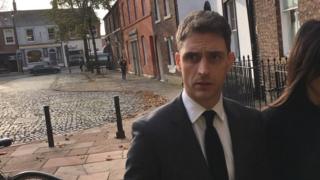 A driver who ploughed into two highways workers on the M6 was driving at "grossly excessive" speed in "horrible" weather conditions, a court was told.
Adam Gibb died and Paul Holroyd was seriously injured in the crash near Tebay, Cumbria, in February 2016.
Peter Morrison in on trial at Carlisle Crown Court accused of causing death by dangerous driving, which he denies.
The 37-year-old, of The Warke, Worsley, Salford, pleaded guilty to causing death by careless driving.
The court was told the two highways officers were clearing up after an earlier collision on the southbound carriageway when the Mercedes 4x4 driven by Mr Morrison veered from lane three across to the hard shoulder, hitting them.
At the time, M6 weather conditions were described as "horrible" with strong winds, heavy rain and standing water, and signs advised motorists to travel at no more than 50mph.
For the previous 23 miles Mr Morrison's average speed had been 81mph, and jurors were also told he was having an "ongoing text conversation" with "a number of people" on his mobile phone, with a message received 45 seconds before the crash.
Mr Morrison told police afterwards he "lost control" of his Mercedes, and it "just felt like I was on ice".
Mr Gibb, from Penrith, died at the scene and Mr Holroyd, of Kirkby Stephen, was seriously injured and left "permanently paralysed from the chest down".
The trial continues.