M6 crash death accused 'ignored speed warning signs'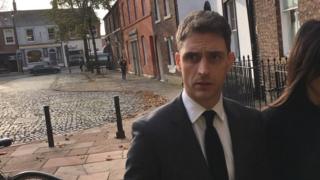 A driver who struck two highways workers on the M6, killing one of them, ignored matrix signs warning motorists to slow down, a jury has heard.
Peter Morrison, 37, denies causing death by dangerous driving but has pleaded guilty to careless driving.
Adam Gibb died and Paul Holroyd was seriously injured in the crash near Tebay, Cumbria, in February 2016.
Mr Morrison, of The Warke, Worsley, Salford, was travelling at "silly speed", Carlisle Crown Court was told.
The workers were standing on the motorway's hard shoulder, supervising the recovery of two previously crashed vehicles, when they were hit by his Mercedes 4x4.
The court heard Mr Morrison had been driving at an average speed of 81mph while "distracted" by a text conversation with a number of people.
The weather on the day was "quite atrocious", with strong cross-winds and standing water, the jury was told.
One motorist, Edward Lillie, told jurors "the conditions were really so bad it was difficult to imagine anything worse".
Another driver, Ian Shaw, said matrix signs advised a 50mph limit following the earlier crash but Mr Morrison was travelling at "silly speed" coming past him.
"All of a sudden I saw a car in front of me brake and then obviously the Mercedes was smashed up in the middle of the road in front of me," he told the court.
Mr Morrison ignored a succession of the advisory signs, the court heard.
He denies travelling at an excessive speed and denies he was "distracted" at the time of impact.
Mr Gibb, from Penrith, died at the scene and Mr Holroyd, of Kirkby Stephen, was seriously injured and left "permanently paralysed from the chest down".
The trial continues.