M6 crash death driver is 'truly, truly sorry'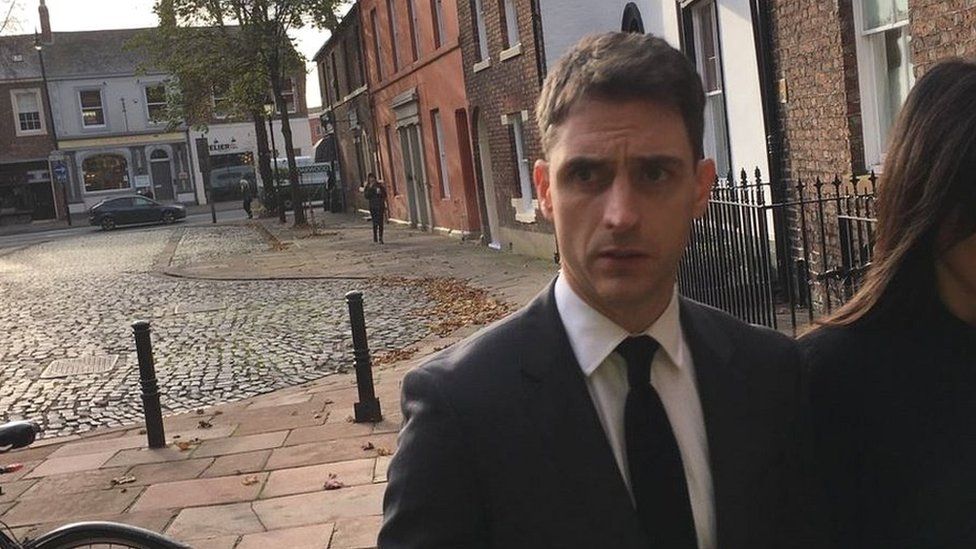 A driver who killed a highway worker on the M6 is "truly, truly sorry", a court has heard.
Peter Morrison, 37, denies causing death by dangerous driving but has pleaded guilty to careless driving.
Adam Gibb died and his colleague Paul Holroyd was seriously injured in the crash in Cumbria in February 2016.
Mr Morrison, of The Warke in Worsley, Salford, denied travelling at a "grossly excessive" speed, saying he felt like he was "on ice".
Giving evidence to Carlisle Crown Court, he referred to a "gust of wind" and admitted that he "panicked" as he lost control at a speed he estimated to be about 60-65mph (96-104km/h).
As he veered across the road he thought "my time is up", he said.
The weather was "atrocious", windy and very wet, jurors have been told.
Mr Morrison, who is a football agent and former professional player, was travelling at an average of 81mph (130km/h) for 23 miles before the fatal crash, the court heard.
He had exchanged texts and WhatsApp messages with several people, including footballers, before he hit the men in his Mercedes 4x4.
But he insisted he had not been distracted in any way.
Arthur Gibson, for the prosecution, accused Mr Morrison of inventing this story to explain what had happened, which Mr Morrison denied.
Mr Gibson said the driver had refused to answer questions when he was formally interviewed by police and had not told them he had slowed down and had stopped using his phone.
In response to a question by his own lawyer Mr Morrison, he said: "I don't think words can describe how bad that has made me feel.
"However, anything I feel is nothing in terms of what the people to my right [in the public gallery] would feel," he said.
"It has changed all our lives for the worse for ever."
Asked if he had any words for Mr Holroyd, who was left paralysed from the chest down and was present in court, he said he was "truly, truly sorry for everything it has caused for all the people involved".
Mr Gibb, from Penrith, and Mr Holroyd, from Kirkby Stephen, had been supervising the recovery of two previously crashed vehicles on the hard shoulder just south of Tebay when they were hit.
Jurors heard a number of character references in support of Mr Morrison, including from Queens Park Rangers footballer Nedum Onuoha and the Manchester City and Belgium player Vincent Kompany.
Related Internet Links
The BBC is not responsible for the content of external sites.