Swept-away Pooley bridge new design revealed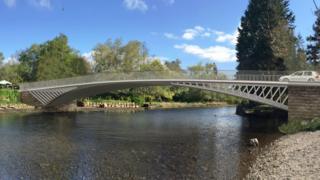 The design of a new bridge to replace a 300-year-old old one swept away by Storm Desmond has been unveiled.
The original 18th Century stone structure across the River Eamont at Pooley Bridge, Cumbria, was washed away by floodwater in December 2015.
A temporary bridge is currently in place. Cumbria County Council said it wanted a permanent replacement by 2019.
A spokesman said the village would be without a bridge for nine-and-a-half months while work was ongoing.
But villagers said they had been told the council was looking at other alternative crossings while the bridge is being replaced.
'Use social media'
The storm damage effectively cut off the village from the south for several months.
Shop owner Darren Todd said any disruption with the building of the new bridge should be overcome with forward planning.
He said: "With the right sort of social media, media marketing and the local papers, we should still be able to tell people they can still get here - it might not affect us as much."
Restaurant owner, Mark Vorse, said he was excited that the new bridge was a step closer.
He said: "It's good we are going to get an iconic bridge which will hopefully last for 250 years."
The new arched bridge will have open spandrels and will sit lower in the landscape than previous designs.
The council said it hope that some stone saved from the original bridge could be used to build the new one.
Councillor Keith Little, cabinet member for highways and transport, said he wanted to hear the views of the public before a final decision was made.
He said: "I've no doubt this new design will prompt debate, but for me it's an elegant and practical design that could work well."