Dog trapped underground in the Lake District rescued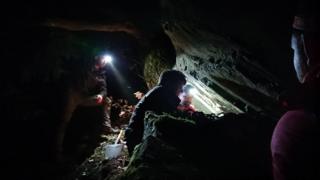 Mountain rescuers spent four hours freeing a dog trapped underground in the Lake District.
Kip the terrier became stuck after falling between boulders at Bowder Stone near Keswick on Sunday afternoon.
Members of Keswick Mountain Rescue Team dug down but were blocked from reaching the dog and there was only a small gap which they could not get through.
They eventually managed to rescue the dog after lowering a rope bag and lifting him up inside.
A post on the team's Facebook page described the difficulties of the rescue.
It said the man who alerted them had been digging by hand for some hours and had made a small gap which Kip could be seen through but could not be reached.
When team members arrived they could not get any further through the tough basalt rock of the area.
They first attempted the rescue with a net but Kip kept rolling off.
The team eventually managed to get the terrier by using a rope bag, suspended horizontally on two ropes and with a small piece of carry mat inside to keep it open.
"Again the dog was told by the owner's brother to get inside," the post read.
"All went silent, ropes were taken in and slowly the yellow rope bag appeared at the rock lip, and inside a little dog face looked out.
"The gap by the rock lip was so narrow it wasn't possible to bring the dog and the bag though in one, so after very carefully extracting the dog it was brought through the gap and out to a very relieved owner and team."