Poppi Worthington inquest: Leg fractures 'accidental'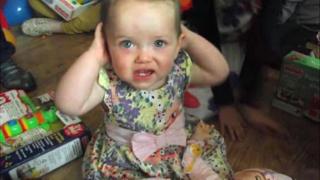 Fractures discovered during an examination of the body of Poppi Worthington could have been caused accidentally, an inquest has heard.
The toddler died suddenly at a house in Barrow, early on 12 December 2012. No-one has been prosecuted.
Pathologist Dr Alison Armour has told the inquest she believed the fractures were signs of abuse.
But Leslie Thomas, representing Poppi's father Paul Worthington, said the fractures could have been from a fall.
In 2016, High Court family judge Mr Justice Peter Jackson ruled Poppi was probably sexually assaulted by her father shortly before she died.
Mr Worthington has denied any wrongdoing.
'Could be accidental'
Mr Thomas read Dr Armour the report of consultant paediatric radiologist Dr Alan Sprigg who said the fractures could have been accidental.
Dr Sprigg had said he was surprised the injuries were not reported but said they "may have been completely innocent".
"It may have been her parents weren't watching her and she fell and they neglectfully did not take her for treatment, or it may have been a physical assault," he said.
Mr Thomas also read a report by Prof Anthony Freemont concluding Poppi's "old" fracture "could easily be accidental", saying his expertise on X-rays was greater than Dr Armour's.
Dr Armour replied: "His expertise is ageing fractures.
"My problem is, how can you say if a fracture is accidental or non-accidental by looking down a microscope?"
The inquest heard parts of a report by Dr Stefania Bitetti, consultant paediatric histopathologist, who believes Poppi's injuries were consistent with constipation and resuscitation attempts.
Dr Armour disagreed, saying injuries to Poppi's bottom were caused by sexual abuse, while lung and throat injuries were caused by suffocation or smothering.
She found "significant" internal haemorrhages and bruises, she said.
Mr Thomas said other experts disagreed with her over them.
"They don't disagree with my findings, they disagree with my interpretation," Dr Armour replied.
In later evidence Dr Bitetti, who had attended the post-mortem examination because of Poppi's age, denied she had said constipation could be a cause.
She said she raised it with Dr Armour based on comments made by another doctor when Poppi was admitted to hospital.
Dr Bitetti said: "I never expressed an opinion, I have never given a medical opinion, I am not of the opinion the findings are in keeping with constipation."
Alison Hewitt, counsel for the coroner, asked Dr Bitetti if constipation was "capable of causing what was seen on these findings"?
Dr Bitetti it could not be diagnosed post-mortem and there was no evidence Poppi was constipated.
"So I don't have an explanation, in terms of natural disease I cannot account for the injuries in the area," she said.
'Common virus"
Ms Hewitt asked Dr Bitetti if she had had any training on the sexual abuse of children.
It was outside her "area of expertise", Dr Bitetti replied.
She had found evidence of a "common virus" in Poppi's lungs which explained the cold-like symptoms she showed before her death, she said.
But it was "very mild" and "did not account for the sudden collapse of Poppi Worthington", she said.
She also agreed she did not see any signs of a natural cause of Poppi's death.
When asked, she said she remembered seeing dilation of Poppi's bottom and flame-shaped haemorrhages.
The cause of those was for the forensic pathologist, Dr Armour, to determine, she said.
She had not seen such things in previous paediatric post-mortem examinations, she added.
'Consistent with penetration'
Following the questioning of Dr Bitetti, Dr Victoria Evans, a consultant forensic physician who was asked to review the findings made by Dr Armour, took to the witness box.
Dr Evans, who was a senior consultant physician for Manchester Police in December 2012 before retiring, told the inquest the pattern of Poppi's injuries was "consistent with penetration... with a penis-sized object".
Asked by Ms Hewitt whether the bruising near Poppi's fallopian tube could have been caused "by something passing through the intestine and out of the body", she replied: "I cannot think of any circumstances where that would happen.
"Anatomically, I can't see how it would happen."
The hearing continues.