Moorside nuclear plant builder set be South Korea's Kepco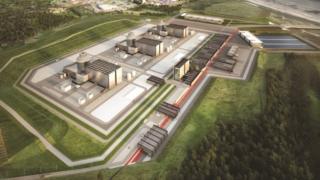 A South Korean company is in line to take over construction of a UK nuclear power station.
The state-controlled Korea Electric Power Corporation (Kepco) has been selected as preferred bidder to take over building the Moorside plant in Cumbria.
Japan's Toshiba has been looking to sell off its holding in NuGen, which has the contract to build the plant.
The UK government said it welcomed the news.
A Department for Business, Energy and Industrial Strategy spokesperson said: "We now look forward to continuing to work with Kepco."
NuGen was initially co-owned by Toshiba and the French firm Engie.
But, in April, the Japanese technology giant was forced to buy the 40% of NuGen it did not already own.
It then put the project on hold while it carried out a "strategic review of its options".
'Welcome lifeline'
It was earlier reported Toshiba would withdraw from all nuclear operations outside Japan, including the £10m scheme near Sellafield, due to multibillion-dollar losses.
Its US subsidiary, Westinghouse, which was to provide the reactors, is under bankruptcy protection.
Toshiba said in April it would "continue to look for investors interested in investing in NuGen, and seek to sell off its holding in the company".
The GMB union has called on the government to "take a stake in the finance of the project".
This would "drive the costs down significantly for UK electricity bill payers", it said.
The union's national secretary for energy, Justin Bowden, said the "involvement of the Koreans may provide a welcome lifeline".
"But, with this new lease of life, it is crucial too that the lessons of the Toshiba collapse are learned - that it is foolish and costly to rely solely on foreign companies or states to build our vital new energy infrastructure," he said.