Poppi Worthington inquest: Sex abuse theory 'unifying'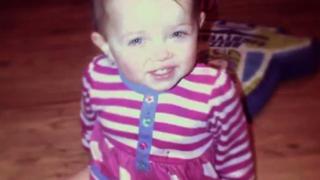 The theory toddler Poppi Worthington's trauma was caused by sexual abuse is the "unifying hypothesis", an inquest into her death has heard.
Questioned by Kate Stone, representing Poppi's mother, Dr Stephen Leadbeatter agreed haemorrhages Poppi suffered were unusual and needed explanation.
Poppi died suddenly at a house in Barrow on 12 December 2012. A family court judge ruled her father probably sexually abused her before her death.
No-one has been prosecuted in the case.
Dr Leadbeatter was instructed to review Dr Alison Armour's post-mortem examination by a solicitor representing Poppi's siblings, but said his view would be "given independently".
The Home Office pathologist told the hearing in Kendal he had seen Dr Armour's report, pictures and samples taken from Poppi.
Ms Stone asked if an internal mark, which Dr Armour says is a bruise but other doctors have questioned, could be caused by penetration.
Dr Leadbeatter said he would accept that.
Ms Stone asked if he thought Dr Armour's theory about penetration was a "unifying hypothesis", Dr Leadbeatter agreed and said there was no other hypothesis he could think of.
He said the findings of the post-mortem examination as a whole raised "concern", but he could not "persuade" himself there had actually been sexual abuse.
Dr Leadbeatter said he was also unable to ascertain the cause of Poppi's death.
Leslie Thomas QC, representing Poppi's dad Paul Worthington, asked if Dr Leadbeatter would agree it was a "difficult and complex case", to which he said he did.
Dr Leadbeatter said he could not say with any confidence what had caused Poppi's death.
Mr Thomas said: "Anything less than that becomes speculative, agreed?"
"Yes," Dr Leadbeatter said.
Mr Thomas asked the inquest's final witness, Dr Victoria Aziz, if it was possible to "be sure on the criminal standard of proof (beyond reasonable doubt)" there had been penetration.
Dr Aziz, a forensic physician who has been an expert in sexual offences for the Metropolitan Police since 1991, said: "On my experience I am pretty sure no penile penetration took place."
She added on the balance of probabilities it was not even likely that an offence had taken place.
The hearing continues.