Driver escapes 130ft car-plunge into Cumbrian beck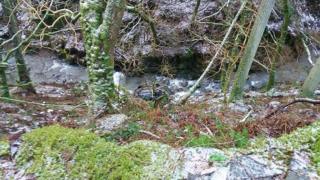 A driver escaped serious injury after his car skidded on ice and plunged 130ft (40m) down an embankment and into a beck in Cumbria.
The crash on Whinlatter Pass was one of scores reported to emergency services in the county as freezing conditions left many roads treacherous.
The male driver of the vehicle, who has not been named, managed to walk away from the scene with cuts and bruises.
Cumbria Police urged drivers to delay travelling until conditions ease.
A spokesman for Cockermouth Mountain Rescue Team said: "We attended an incident earlier today where a car lost control, left the road on Whinlatter Pass and rolled nearly 40m down the bank into the beck.
"Fortunately the driver escaped any serious injury and managed to walk away from the scene.
"We urge people to maybe stay off the roads, if you don't need to travel, until things have warmed up a bit."
Cumbria Police said: "West Cumbria has been particularly affected by ice and slippery road conditions.
"If driving please slow down or consider delaying journey until later.
"We have had a number of vehicles leaving the road across the area."