Windermere ferry ticket row: New machines 'should go'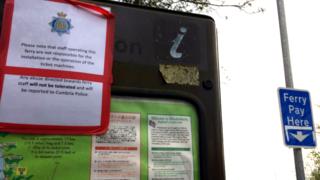 Unpopular on-shore ticket machines for the Windermere Ferry should be scrapped, a council has recommended.
Residents and business owners had complained about delays and confusion with the new machines.
On-board machines were subsequently reintroduced but those on-shore were retained, resulting in "queue jumping".
Cumbria Council cabinet member for customer services Janet Willis apologised for the changes, which had been "well intentioned".
"This ferry service is not just for tourists, but an integral part of the daily commute for many locals, and we did not give them the consideration they were due," she said.
"We've listened, improved signage, simplified the ticketing system and provided extra capacity via additional machines and staff to assist."
Campaigners complained that the on-shore machines were difficult to use and forced drivers to get out of their vehicles, causing delays.
A council report admitted that the necessary broadband signal sometimes dropped out and there were too many stages to buying a ticket.
There had been concerns "with regard to drivers with mobility issues or parents travelling alone with children" having to leave their cars, it said.
The changes to the original ticketing system were in response to concerns raised by customers that some users were not buying a ticket.
They had also questioned "inappropriate cash handling practices", the new report says.
It recommends customers now pay with credit cards or phones, either by pre-purchase or on-board.
But there will be machines for those wishing to pay in cash.
If approved by councillors, the new measures "should be in place prior to the start of the busy holiday periods in 2018", the report says.