Hungry Carlisle tractor driver arrested on pizza hunt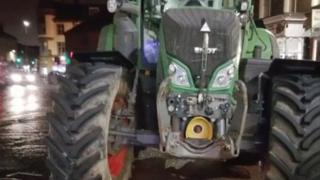 A tractor driver hungry for pizza has been arrested on suspicion of drink and drug driving in a city centre.
Cumbria Police officers were confronted with the unusual sight of a large, green tractor parked in The Crescent, Carlisle, in the early hours.
Officers tracked the driver down who had driven the vehicle into the city because he fancied a pizza.
The force tweeted a picture of the tractor , which has been re-tweeted dozens of times.