Helvellyn weather sensors aid ice climbers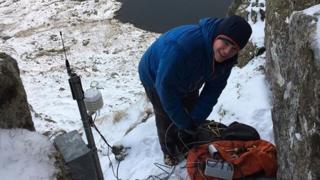 Sensors have been buried high up on a Lake District crag to let people know when the weather is suitable for ice climbing.
The monitors have been fitted on Helvellyn by the British Mountaineering Council.
They show if it has been cold enough for the turf to freeze, allowing the use of ice axes and crampons.
If not, there is a risk they could damage some of the rare plants growing in the deep cracks.
These include the Alpine saxifrage which grows in only two locations in England.
The high and north-facing Helvellyn massif often gets hit with winter conditions before other parts of the Lake District, making it a popular choice right after a cold snap or snowfall.