Sellafield firefighters announce further strikes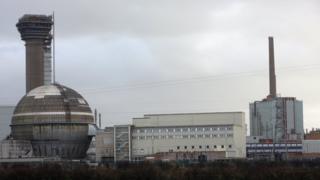 Firefighters at the Sellafield nuclear reprocessing plant in Cumbria are to stage further strikes in a long-running dispute over pay and job roles.
About 60 members of the GMB union have rejected an offer of an extra £4.30 a week and have called for fresh talks.
The union said the next strike dates were planned for 11 and 22 January from 06.00 until 18.00 GMT on both days.
A spokesman for Sellafield Ltd said there would be full emergency safety cover in place during the stoppages.
A GMB spokesman said: "The two sides are not miles apart, but it seems that there needs to be further local negotiations to reach a settled position.
"We have said over and over again we are willing to negotiate for as long as it takes to reach some kind of offer that is capable of potentially reaching a resolution to this dispute, even in the short term."
A Sellafield Ltd spokesman said: "As always, we will work with other agencies to try to minimise disruption for the public.
"Full emergency safety cover will be in place during this strike. This will be provided by Securitas, which supplied cover during the previous firefighters' strike."