Barrow Bronze Age gold hoard declared treasure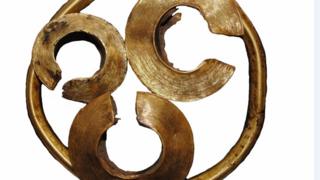 A hoard of Bronze Age jewellery unearthed in Cumbria has been declared treasure.
The 3,000-year-old haul of three gold rings and a bracelet were found buried under a stone last year on a ridge at an undisclosed site in Urswick, Barrow.
An inquest in Barrow heard that the treasure from about 1,000BC could eventually go on show at the Dock Museum in Barrow.
Coroner Paul O'Donnell said the find was "rare".
The rings - thought to be earrings or hair decorations - were found by two metal detectorists John Rigg and Darren Fine.
The Dock Museum is already home to the The Furness Hoard of Viking Treasure - a collection of 92 silver coins and ingots found in 2010 at an undisclosed site by a metal detector enthusiast.
Museum treasurer Sabine Skae said: "They are essentially three gold hair bands which doesn't make them sound very exciting, but they are exquisite craftsmanship.
"We are talking about the Bronze Age even though these are gold, which is confusing, but think of the time as a metal revolution when people were experimenting with different types of metal to the maximum.
"Because it's our area we are interested, but we will have to see how much they are worth and whether we can raise the money."
The aim of declaring the items as treasure means it cannot be sold on the open market and the Dock will be given first refusal to buy the haul.
The sale money will then be divided between the landowner and the detectorists.