MPs misled over commissioner's Whitehaven Academy visits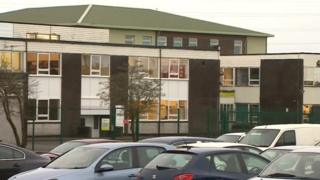 A government official insisted the north of England regional schools commissioner visited a troubled school when she had not, the BBC has learned.
National schools commissioner Sir David Carter told MPs Janet Renou had been to Whitehaven Academy a number of times.
But a BBC Freedom of Information request has revealed members of Ms Renou's team carried out the visits without her.
Both Sir David and Ms Renou have declined to comment.
The Department for Education admitted Ms Renou had not visited the Cumbria academy in person since December 2015.
However, it said that members of her official team had carried out 11 visits on her behalf in that time.
"Janet Renou has also been in regular contact with Bright Tribe Trust and Cumbria County Council throughout this period, in addition to meetings with MP Trudy Harrison and a delegation of parents," a spokesperson added.
'Agree to differ'
In December, Sir David told the education select committee that Ms Renou herself had made three visits to the academy.
In response to Copeland Conservative MP Trudy Harrison's claim Ms Renou had not visited in the last two years, he said: "We can agree to differ on that but I can tell you exactly the dates she and her team have visited the school.
"I know for sure that she and her team visited certainly within two years and, I believe, in 2017."
Robert Halfon MP, chairman of the education select committee, said he hoped "Sir David will be writing to the committee as a matter of urgency" to explain the discrepancy between his evidence and the Freedom of Information request.
Ms Harrison had raised parents concerns about the Bright Tribe Trust, which ran the academy until it pulled out in November last year.
The academy is in special measures and has had six head teachers since the trust took over in 2014.
Teachers have taken strike action over standards and the "unsafe" state of the building.
Bright Tribe has said problems stemmed from a lack of investment before it took over.