Glue spillage forces M6 slip road closure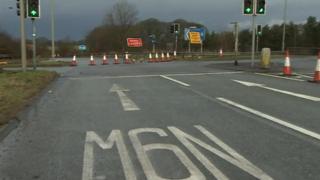 A PVA glue spillage has forced the closure of a motorway slip road.
A lorry carrying 23 tonnes of the adhesive shed its load of industrial-strength adhesive at junction 44 of the M6 near Carlisle on Monday afternoon.
The road, which was cleaned up by the fire service and Highways England overnight, needs to be resurfaced and could remain closed until Thursday.
On Twitter, police advised motorists to "adhere" to the closure and urged them to "stick" around for further updates.
Motorists are being asked to avoid the area, as one lane of the northbound carriage of the M6 is also closed.
A spokesman for Highways England said: "It wasn't just ordinary PVA, it was an industrial glue used for making MDF.
"We'll have to take off the surface of the two carriageways and the hard shoulder and resurface them."