Attacker hunted after man 'set alight in Carlisle shop'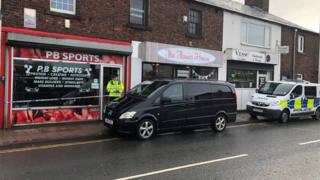 Armed police were called in after a man was reportedly set on fire during an attack in a Carlisle shop.
Police and fire crews were called to P.B Sports on Wigton Road at 10:47 GMT and found the 50-year-old with burns to his legs.
An eyewitness said the victim had used a fire extinguisher to put out the flames on his own body.
The assailant fled the scene and police said armed officers have been deployed in the search "as a precaution".
Sarah Stewart, who works two doors away, said she had heard someone had set fire to the man.
"My boss Vicky actually went down to see what she could do, and she said he was putting the fire out with an extinguisher when she went in, and it seemed his feet and legs had been burned," she said.
Cumbria Police said investigations into the cause of the victim's injury were under way, and appealed for information.