Underley Hall School: Teacher 'threw boy like rag doll'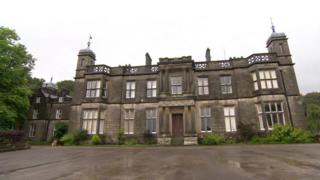 A former boarding school pupil has told jurors he was throttled and thrown around "like a rag doll" during an alleged attack by a teacher.
The victim said James Farish dragged him by his hair at Underlay Hall School in Kirkby Lonsdale in the 1980s.
Mr Farish, 58, of Oakwood, Kendal, is one of four former teachers on trial for alleged physical abuse at the school. He denies one assault charge.
A fifth man has been acquitted.
The witness said Underlay Hall was "brutal" and he "hated" both the school and his then teacher Mr Farish.
Having received warnings about bad behaviour, the witness told jurors how Farish "dragged me out of the classroom by my hair".
'Almost passed out'
He said: "He was trying to calm me down and I wasn't calming down because I didn't like him.
"He grabbed me by the neck. He was squeezing that tight I almost passed out because I couldn't breathe. I was begging him to let go."
The man said Mr Farish started throwing him about "like a rag doll" and claimed the teacher also used a knuckle to "whack me on the head".
He said he was left with "little lumps all over my head".
The school's former owner Derrick Cooper, 77, of Hillberry Green in Douglas, Isle of Man, denies six assault charges and two of child cruelty.
Fred Trevor Taylor, 75, of Lower Park Royd Drive in Sowerby Bridge, and David Hadwin, 71, of Raygarth Gardens in Kirkby Lonsdale, both deny one assault charge.
The trial continues.