Donald Campbell's restored Bluebird set for Scotland run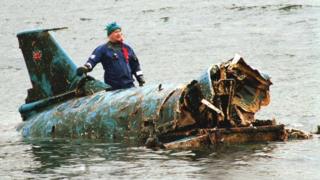 Donald Campbell's rebuilt Bluebird will take to the water this summer, but in Scotland rather than the Lake District.
The record-breaking hydroplane crashed on Coniston Water in 1967, killing Campbell.
Salvaged in 2001, volunteers have been restoring the wreckage in Tyneside over the past decade.
The Lake District National Park said it is "disappointed" August's trial run will not be at Coniston, but at Loch Fad on the Isle of Bute.
The team behind the restoration project said: "Her long-anticipated resurrection, upon which she will again run at speed for demonstration purposes before going on public display, awaits only an invitation from a suitable waterway with Coniston Water being the team's first choice.
"But before that she must be thoroughly worked back to fighting fitness along with her operating team."
Vicky Slowe, director of Coniston's Ruskin Museum, where a wing dedicated to Donald Campbell and Bluebird has been built, said: "The plan has always been to have Bluebird back on Coniston Water at some point.
"That's what we want and that's what Donald Campbell's daughter, Gina, wants.
"We are hopeful Bluebird will return to Coniston at some point in 2019."
Steve Tatlock, park management team leader for the Lake District National Park, said: "We are disappointed the Bluebird team have chosen to undergo proving trials in Scotland and not on Coniston Water.
"The National Park Authority facilitated a change to the Coniston Water byelaws to allow the proving trials of Bluebird K7.
"The efforts of the Bluebird K7 group to recover Bluebird and her pilot Donald Campbell was the start of a long journey which will hopefully end with Bluebird resting in Coniston just a stone's throw from where Donald Campbell already rests."