Cumbria earthquake: Tremor of 3.2 magnitude hits county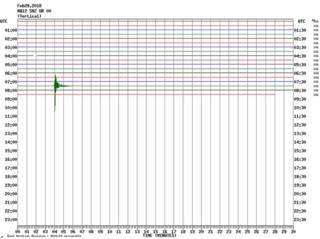 An earthquake with a magnitude of 3.2 has been recorded in Cumbria.
People in the west of the county said "the Earth moved" and caused houses to shake when the tremor hit at about 07:30 GMT.
The British Geological Survey, which said the epicentre was near Cockermouth, said earthquakes of a similar scale "occur in the UK about once or twice a year".
It was "about 130 times smaller" than a tremor in South Wales last week".
Many people took to Twitter in the minutes following the quake with some reporting their homes shaking for about 20 seconds.
Others said the quake was shorter but "scary".
Jonty Chippendale, from Eaglesfield, near Cockermouth, told the BBC: "I was in that only really half-awake state fumbling round the house and I thought for a moment a big wagon had driven past the front gate.
"Then I realised, as I live up a country track, that was unlikely, It was only after a few minutes I realised it might be an earthquake.
"It was a rumble and a vibration rather than a physical wobble."