Knock fatal house fire victim Danny Earl was 'ray of sunshine'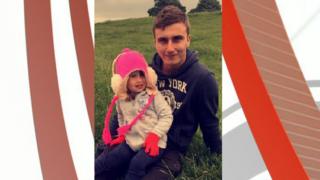 A 25-year-old man who died in a Cumbrian house fire was "a ray of sunshine" his family have said.
Father-of-one Danny Earl was killed along with 22-year-old Jill Harrison at the home they shared in Knock, near Appleby, early on Sunday.
A third person managed to escape before the property partially collapsed.
In a statement, Mr Earl's family said: "Words cannot describe how heartbroken we all are, Danny was one of a kind and touched the hearts of many."
An investigation into the cause of the blaze in continuing.
"Danny was a ray of sunshine to all of us," the family's statement continued.
"Our lives have been totally shattered and we are left heartbroken.
"The loss of Danny is massive, he was such a huge part of our family. He was loved by all who knew him.
"His smile, his kindness and love for life will remain forever etched in our hearts."
Andrew Lund, head teacher of Appleby Grammar School, where the pair had been pupils, added: "Staff and governors send our condolences to the families of Danny Earl and Jill Harrison following this terrible tragedy.
"As former students of the school, Danny and Jill were making their own way in the world and we are all deeply saddened to learn of their untimely deaths."
Cumbria Police said specialist officers were supporting both sets of families.
Phil Cook, chairman of Appleby Cricket Club, where Mr Earl was a player, earlier described the pair as a "lovely young couple".