Cumbria cottage hospital bed closures confirmed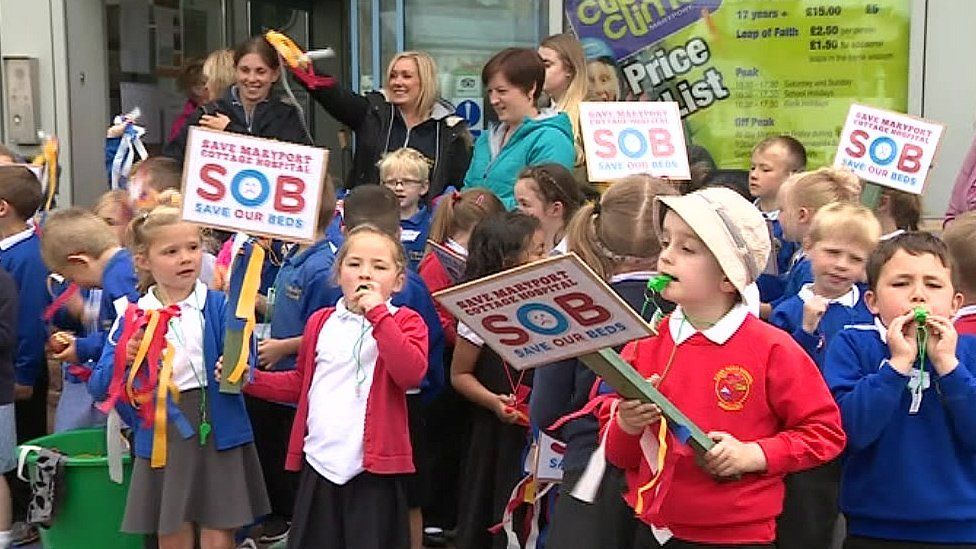 The closure of inpatient beds at three cottage hospitals in Cumbria has been confirmed.
The temporary closure of beds at Alston has been made permanent while Maryport and Wigton will lose theirs by October,
North Cumbria's Clinical Commissioning Group (CCG), which decides what NHS services should be provided in the area, approved the move at a meeting in Workington.
Community groups gave the decision a mixed reaction.
It was also decided stroke services will be centralised at Carlisle's Cumberland Infirmary once funding is found.
John Rush, chairman of the CCG, told BBC Cumbria people would be cared for in their own homes by community nursing teams once the cottage hospital beds were closed.
He said: "There was definitely a need for change.
"What we've done today is give clarity to communities and also providers."
Wigton's Evelyn Dugdale, who is part of the Solway Care Alliance campaign group, said: "Initially I didn't want it.
"But studying it and wading through it, I do think it is the best we could possibly hope for.
"We have salvaged something from nothing because nothing is what they offered us."
However, retired GP Brian Money, of the Maryport Alliance, said: "We were given an ultimatum - the beds are going, we had no choice.
"We've felt it incumbent to work with the health authorities to try to make the best of what we think is a wrong and bad decision for Maryport."
Campaigners have also warned patients' lives will be put at risk by the changes to stroke treatment, with increased transport times for people in west Cumbria.
Mr Rush said they would receive treatment within a "four-hour window" identified by the organisation as being key to survival.
Treating patients at Carlisle rather than Whitehaven's West Cumberland Hospital will allow the CCG to "consolidate specialist staff in one location", he added.
Related Internet Links
The BBC is not responsible for the content of external sites.