Thirlmere reservoir storm clean-up hampered by walkers and cyclists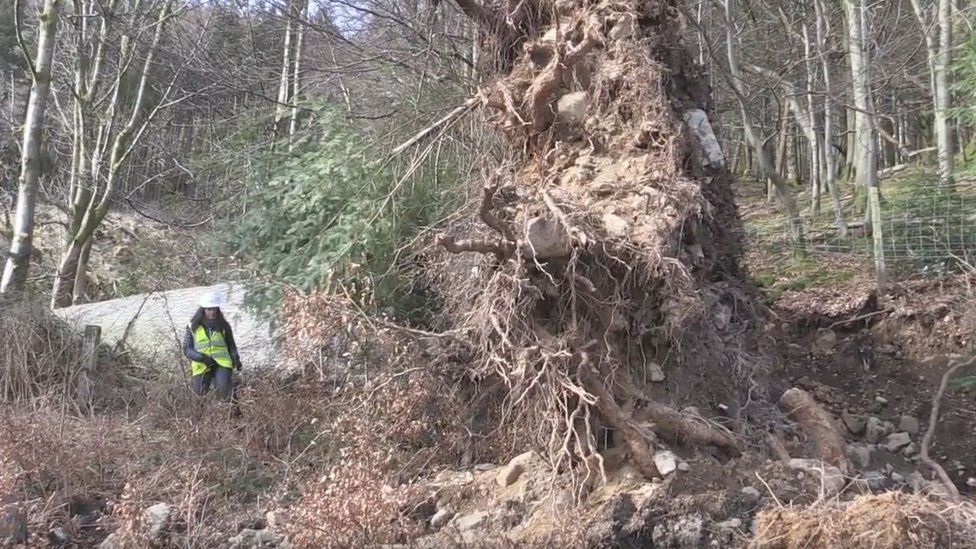 A "Beast from the East" storm clean-up at a Lake District beauty spot is being hampered by about 20 people a day ignoring warning signs to stay away.
Hundreds of trees on the west side of Thirlmere reservoir in Cumbria were blown down at the beginning of March.
Workers keep having to stop repairs due to the risk of boulders and debris falling onto walkers or cyclists below.
The "Beast from the East" weather system mixed with storm Emma to create testing weather conditions in the UK.
Sub-zero conditions, blizzard-like conditions and biting winds caused widespread disruption.
Repair workers have seen as many as 20 people in one day walking, cycling or driving through the works closure having ignored safety signs.
North West water firm United Utilities, which maintains the reservoir, said a person with a pushchair and a group of young people on a Duke of Edinburgh course had ended up in the middle of the works.
Protective fencing has been moved without permission, even though the road is blocked by fallen trees and the slopes above the carriageway have become unstable.
Paul Phillips, north area catchment manager at United Utilities, said he appreciated the closure is "frustrating" but it has been done "for genuine safety reasons".
"Anyone who ignores the safety barriers is putting themselves in serious danger, especially when contractors are working on slopes high above the road," he said.
United Utilities is working with Cumbria County Council and the Lake District National Park Authority.
Stephen Hall, assistant director for Highways and Transport, said people "are putting themselves at serious risk".
"This is massive task and I'd urge people to respect the closures and let United Utilities get on with the job."
Related Internet Links
The BBC is not responsible for the content of external sites.