Cumbria's west coast rail services reinstated after 40 years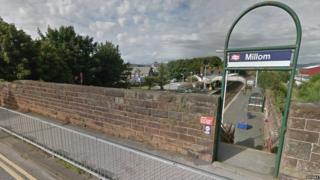 Train services along Cumbria's west coast have returned after more than 40 years.
The Sunday service between Barrow and Whitehaven has been reintroduced as part of new timetables across the north of England.
The service, which last ran in 1976, will see trains stopping at stations such as Askam, Kirkby and Ravenglass.
Copeland Rail Users Group said it was an "end to isolation" for rural communities.
Tony Potts, from the group, said: "We've been pressing for this since our inception... bus services in rural areas have dwindled down to next to nothing.
"We need a train service in the area otherwise towns like Millom are just cut off on a Sunday."
The Sunday timetable will see 10 trains run northbound and nine southbound.