Carlisle councillors discuss future of derelict hotel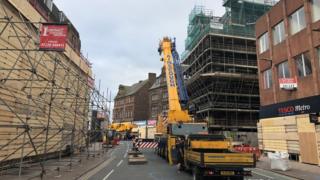 Councillors in Carlisle have agreed to ask permission to demolish a derelict hotel if no developer can be found.
Central Plaza Hotel has been empty since 2004, and crumbling masonry from the Grade II-listed building has closed part of Victoria Viaduct.
Conservatives on the council have described the situation as "urgent" and accused the Labour administration of being slow to act.
Labour leader Colin Glover said it was talking to a potential developer.
The building's future was discussed at a special meeting of the council on Tuesday.
Financial assistance
Conservative councillor Paul Nedved said he had raised several questions about the building's "increased dilapidation" but had been "fobbed off".
He said: "However we hope this situation, and the urgency of this situation will now be addressed."
Mr Glover said: "We have a responsibility to keep people in the vicinity safe, and we've gone beyond that in trying to find someone who will take the building forward."
The council was in "serious talks" with Newcastle-based developer Inveniam, he added.
At the meeting the authority agreed that if talks with the developer failed it would ask the government for permission to demolish the listed building.
The Labour group added a section to the motion saying it would also ask for financial assistance for local businesses hit by the closure of Victoria Viaduct.