More than 80 evacuated from ferry on Windermere after fire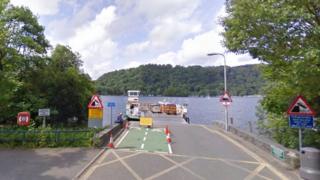 More than 80 people have been evacuated from a ferry after a fire in its engine room.
HM Coastguard was called at 12:45 BST to reports the Hawkshead Ferry was stranded on Windermere in the Lake District.
The chain ferry was carrying 81 people, 15 cars and eight bicycles, Cumbria Fire & Rescue Service said.
Two people reported minor injuries to paramedics once they reached the shore.
The B5285 was closed while emergency services worked to take passengers ashore using a cruiser, Silver Home.
Brian Steadman, for Cumbria Fire & Rescue Service, said he received reports of a small fire in the engine room of the ferry.
He said: "The passengers were moved quickly ashore by the Lake Wardens.
"The fire was out when the fire fighting team boarded the vessel but there was a lot of residual heat and damage to one of the ferry's two engines."
An engineer carried out interim repairs which allowed the ferry to return to port. All vehicles have since been removed from on board.
The ferry, which can carry 18 cars and more than 100 passengers, has been taken out of service.
Cumbria Police, North West Ambulance and Great North Air Ambulance also attended the scene, alongside Arnside, Morecambe and Furness Coastguard Rescue Teams and Ulverston Inshore Rescue.