Lakes Line services 'face eight-week suspension'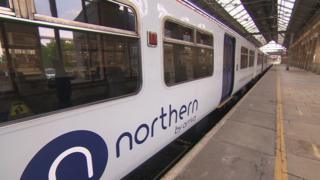 Concerns have been raised train operator Northern is planning to suspend services on a Cumbrian rail line for eight weeks.
The RMT union said its staff were told the Lakes Line, which runs between Windermere and Oxenholme, could see trains replaced by bus services.
Passengers have faced widespread cancellations and delays with claims the service is "unacceptably poor".
Northern said it is "considering a number of different proposals".
Closure 'by stealth'
The RMT's Craig Johnston told BBC Cumbria: "We started hearing reports from our members towards the back end of last week that this had been mooted by some of the managers.
"We do know they're looking at this as a proposal. It's on the agenda."
Tim Farron, the Liberal Democrat MP for Westmorland and Lonsdale, has written to the firm requesting clarification.
He said: "You think Northern couldn't do anything more outrageous having cancelled going on for half the trains in the last few weeks, now they might be planning to cancel all of the trains on the track.
"It feels very much to me this is the closure of the most remarkable and wonderful of railway lines by stealth.
"The Department for Transport needs to get a grip and take the franchise off Northern and do it today."
'Number of options'
The firm has experienced serious disruption across its routes in the North West and North East of England since it introduced a new timetable earlier this month.
Greater Manchester Mayor Andy Burnham last week called for an investigation into the company's "unacceptably poor" performance.
Northern blamed staff shortages and delays to line electrification work.
A spokesman told the BBC: "We are looking at a number of options to address our current operational performance and stabilise the May 18 timetable.
"As part of this process we are looking at a number of routes and no decision has yet been made."