Lakes Line trains suspension extended by two weeks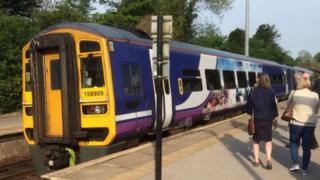 Trains on a key line through the Lake District will be suspended beyond an initial two-week period.
Services on the Lakes Line in Cumbria were halted on Monday when Northern introduced an interim timetable.
It initially targeted reopening the line on Monday 18 June. However, the company has confirmed it has delayed that until Monday 2 July.
MP Tim Farron said Northern should lose its franchise and had "given up trying to run a train service".
An eight-week interim timetable has seen Northern remove 6% of its total services in areas including Manchester, Liverpool and Blackpool.
'Bottom of the heap'
John Cridland, Transport for the North chairman, said the delay was "disappointing" as "communities and businesses rely on the Lakes Line service".
Chairman of the Lakes Line Rail User Group, Robert Talbot said: "What we need is for everybody in the rail industry, just for once, to put our line as priority number one instead of being bottom of the heap."
Northern has faced repeated calls for it to be stripped of its licence amid delays and the cancellation of thousands of services.
It said the extended line closure will enable it to "help deliver training for our drivers so that rail services can be reintroduced in a way that provides more certainty to passengers".
It added the number of replacement coaches will be increasing from Monday 11 June.
Mr Farron, Lib Dem MP for Westmorland and Lonsdale, said the Transport Secretary "made a promise to me" that he "would not accept any bid to extend the suspension of rail services on the Lakes Line".
A Department for Transport spokesperson said it did not object to the "operational decision" taken by Northern and "accepted by Transport for the North as the best temporary solution for passengers".
Transport Secretary Chris Grayling has been "very clear" that this line must open as soon as possible, it added.
Meanwhile train drivers' union Aslef said it had reached a deal with Northern over working on rest days.
In a statement Aslef said the rest day working agreement for drivers that was paused earlier this year has been "reinstated with immediate effect on a provisional basis" while the union finalises the details of its discussions.
Further talks will take place into next week.