Tim Farron leads Lakes Line protest march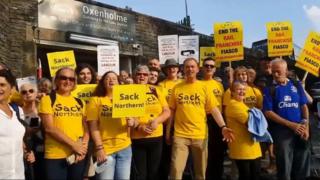 A protest march has taken place at stations on the temporarily closed Lakes Line.
It follows the decision by Northern Rail to suspend services between Windermere and Oxenholme until 2 July.
The march was led by Westmorland and Lonsdale MP Tim Farron, who has been calling for the operator to be stripped of its franchise.
Up to 200 people took part on Saturday, with an estimated 70 walking the full road route of 12 miles.
The former Liberal Democrat leader said: "We will not lie down and roll over while the Lakes Line is being killed by stealth."
Northern Rail said it had introduced temporary timetables on several routes in the North West "to give customers much more certainty about the services we will run".
It added in a statement: "We will continue to run coaches [on the Lakes Line] for another two weeks until Monday 2 July and are working extremely hard on the backlog of driver training caused by the late production of the Network Rail timetable and will announce details of our plans beyond 2 July as soon as possible."