Another Fine Fest: Party hat record attempt succeeds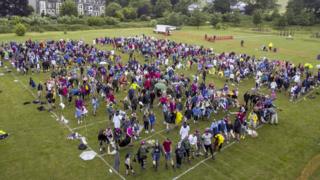 An attempt has been made to break three world records in one go.
Organisers in Ulverston, Cumbria, had hoped to gather the most people wearing party hats, the most wearing odd socks and the most playing musical statues.
They only managed 900 of the 1,200 people needed for the treble but broke the first record on the list.
Two of the records were broken while plans for the event were being made which one organiser, Jennie Dennett, described as "nerve-shredding".
The attempt at Ford Park was part of the Another Fine Fest festival to mark the birthday of black and white film comedy legend Stan Laurel, who was born in the town on 16 June 1890.
Ms Dennett said: "It didn't stop raining all morning but 900 people put on their party hats, silly wigs, even an inflatable dinosaur costume and came anyway.
"Some people had to swap the hats we'd given them on registration as they'd gone a bit mushy but, in the end, we did have a park-full of people in upstanding party hats for the required record breaking period of five minutes."
"The 900-strong crowd also played musical statues and wore odd socks which was a lot of fun but, sadly, just shy of the record tallies for those (933 and 1,079 respectively)."
A school in Tennessee took the odd sock record from Ireland with 933 sock-sporters in April.
But the USA lost a record when Wakefield Girls High School topped Bloomington's conical hat-wearing mark in January with 641 people.
The musical statue record set by 1,079 people in the Finnish capital Helsinki has been unbroken since 2010.
Guinness's rules require "aerial footage and witness statements and forms - lots of forms", Ms Dennett said.
An accurate count of those taking part was also needed and Newcastle-based Protector Group provided a facial recognition camera.
The festival hosted a successful bid for the world foam pie throwing record in 2016.
Evidence of the latest record attempt will now be sent to Guinness for approval.