Lakes Line rail services return despite Northern suspension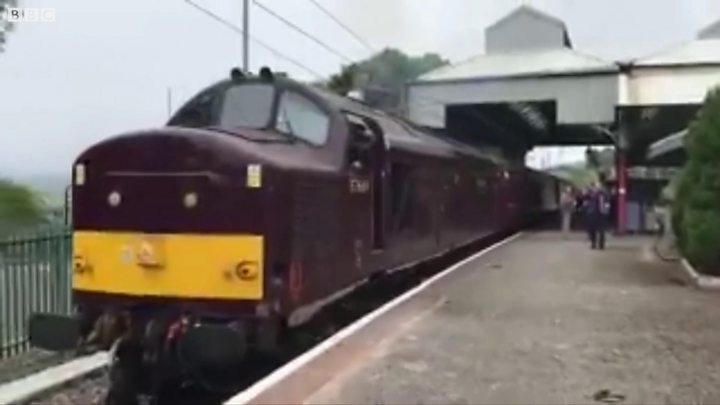 Passenger trains have returned to a line after a heritage rail firm stepped in following Northern's cancellation of its services in a timetable row.
Trains are running again on the Lakes Line, between Oxenholme and Windermere.
Northern stopped running trains on the line on 4 June and has delayed their reinstatement until 2 July.
Cumbrian MP Tim Farron said he has worked with West Coast Railways to run trains on the line until Northern can reinstate its services.
The former Liberal Democrat leader said it was not a "long-term solution" but "it demonstrates what you can do if you put your mind to it".
Northern stopped running its trains on the line when it introduced an emergency timetable to tackle repeated delays and cancellations across its network.
The Department for Transport (DfT) has provided funding for the shuttle service on the line, alongside Northern's replacement buses, but said it was working to reinstate full services as soon as possible.
Mr Farron, MP for Westmorland and Lonsdale, said a three-coach heritage train was "full" during a trial run on Sunday.
"Between us we managed to get a good rail service, not a complete one, but a rail service running over the next couple of weeks starting properly this morning, in a way that the Department for Transport and Northern Rail and have not managed to do.
"It's a reminder that if we give the rail franchise for our area to somebody who actually cares about it, we might get a decent service."
There will be six return journeys running on the line each day, which has been welcomed by a passenger group.
Robert Talbot, chair of the Lakes Line Rail User Group said: "I think it's great that West Coast Railways have identified an opportunity and are prepared to go out there and do this."
A DfT spokesperson said: "We have been clear that there must be a full resumption of services on this line as soon as possible to give passengers a reliable service and we will continue to work with Northern to achieve this."
Northern and West Coast Railways have been contacted for a response.