Houston helps in rescue of Lake District walker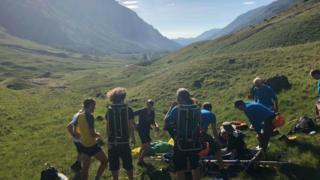 A climber was rescued from the Lake District fells after his distress signal was picked up in Houston, Texas.
The 70-year-old, from Liverpool, suffered heat exhaustion near Ennerdale on Thursday and activated a personal locator beacon (PLB).
The signal was picked up by a response centre thousands of miles away in the USA, which in turn contacted Cumbria Police via a control room in Hampshire.
Mountain rescuers described it as one their "most unusual" call-outs.
The man, who has not been named, but described as an "experienced walker", was treated in hospital and not seriously hurt.
Martin Pickavance, from Cockermouth Mountain Rescue, said: "When the gentleman activated his PLB that signal went via satellite to the International Emergency Response Coordination Centre in Houston.
"From there it comes to the UK mission control centre at Fareham and on to Cumbria Police and then to us.
"It's a very very long way round for the message to get to us, but it did get to us and we were able to go and find this gentleman.
"It's an international system based on one that has been used by the yachting and boating fraternity for decades.
"But it's expanding now and is being used increasingly by people with small aircraft and solo hill walkers in remote areas.
"So because it is an international system, there is one centre that the message goes to, they then identify where the signal has come from and task the local rescue organisation."
It is thought there are about 20,000 PLBs in use in the UK. They cost on average about £200 and must be registered with the Maritime and Coastguard Agency.