Carlisle Castle Weeping Window poppies attract thousands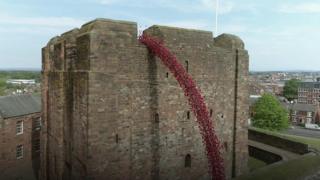 Thousands of people people visited a display of ceramic poppies cascading from the top of Carlisle Castle.
The Weeping Window installation - part of which was first on show at the Tower of London - is on tour to mark 100 years since the end of World War One.
Carlisle Castle was chosen for its military associations and architecture, which allowed the pouring arch of flowers to be viewed from underneath.
Over a six-week period it attracted more than 140,000 visitors.
Andrea Selley, from English Heritage, said: "This has been a momentous time for Carlisle Castle and the city itself.
"The visitor numbers reinforce just how much the First World War has impacted the lives of us all today, and we are privileged to have played a small part in keeping alive the legacy of the sacrifice made by these men."
Weeping Window will next be on show at Middleport Pottery in Stoke-on-Trent and at the end of the tour will become part of the Imperial War Museums' collection.