Barrow man found dead after Coniston quarry jump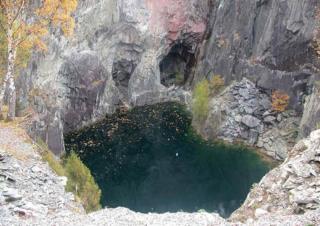 The body of a man has been found in a disused Lake District quarry.
The 30-year-old man, from Barrow, was spotted jumping "from height" into the water at Hodge Close Quarry, Coniston, Cumbria Police said.
The force was contacted at about 17:45 BST on Tuesday and the body was found late in the evening after a search.
Coniston Mountain Rescue Team (MRT), which helped get the man out of the water, said people should "exercise extreme caution when wild swimming".
"We strongly advise against jumping into the water from height, as the forces experienced when entering the water can be disorientating at best, and can lead to physical injury," a spokesman said.
"The water in the quarries and high mountain tarns is still very cold compared to the warm air outside and even strong and experienced swimmers can experience difficulties, not to mention underwater hazards that may not be obvious from above."
Slate was extracted from Hodge Close Quarry from the 1800s until the early 1960s.
The site is popular with abseilers and divers.