Maryport Blues Festival cancellation 'devastating'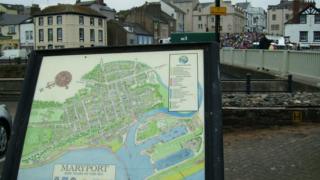 Organisers of Maryport Blues Festival in Cumbria said they are "devastated" about its cancellation in what would have been its 20th year.
The plug was pulled less than three weeks before it was due to be held because of funding problems.
There were also health and safety issues about visitor numbers, as it was the same weekend as Kendal Calling.
All artists booked to take part have been informed and people who have bought tickets will be refunded.
The festival sees musicians perform in a marquee, pubs, an outdoor stage and on the street
'Most miserable'
A spokeswoman for the organising committee said they hoped to acquire funding and sponsorship, but were not able to.
She said: "If we had gone ahead we would have had to guarantee all tickets would be sold to cover everything. We can't guarantee anything.
"We more than anyone wanted this festival to go ahead for the 20th anniversary. Without support and funding, we could not do it."
Debra Park, one of the organisers who has been involved since the beginning, said the decision was made during "the most miserable meeting" she had been to.
"We've been trying so hard, the whole committee has tried, but people just don't have the funds anymore to give to festivals."