Laptop examined by Poppi Worthington police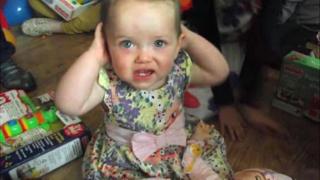 A laptop has been found by police officers investigating the death of toddler Poppi Worthington.
A coroner ruled in January the 13-month-old was sexually assaulted by her father before she died of asphyxia.
The inquest was told Paul Worthington had spent time on the night she died looking at pornography on a computer which had not been traced.
Cumbria Constabulary has yet to officially confirm if the recovered laptop is Mr Worthington's.
The force said it was subjecting the device to "meticulous forensic examination" to establish its relevance to its enquiries.
It was among a number of items which had been recovered, a spokesperson said.
They said: "The laptop is subject to meticulous forensic examination, by specialist officers, to determine whether it is relevant to potential enquiries concerning Poppi Worthington."
The force has previously apologised for a flawed investigation into Poppi's death.
A report by the Independent Police Complaints Commission found that crucial evidence was thrown away and witnesses weren't interviewed for eight months.
Paul Worthington denies any wrongdoing.