Regulator staffs' 'disrespectful' remarks about bereaved dad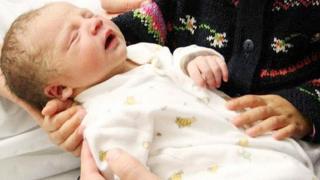 Staff at the nursing and midwifery regulator were spoken to about "disrespectful" remarks they made about a bereaved father, MPs have been told.
A Professional Standards Authority report highlighted in May how James Titcombe was seen as "hostile" to the Nursing and Midwifery Council (NMC).
Mr Titcombe's son Joshua died after midwives at Furness General Hospital failed to spot a serious infection.
The NMC told the Social Care Select Committee it "shouldn't have happened".
The report criticised the NMC over its handling of reports of major care failures at the Cumbrian hospital where at least 12 mothers and babies died between 2004 and 2012.
It highlighted how James Titcombe was seen as "hostile to the NMC corporately".
The NMC monitored his Twitter feed and set up Google alerts on him, the report states.
The document also highlighted how a small number of emails between NMC staff members suggested that they found him "a nuisance to deal with" and "gave the impression that he was not seen as someone who had lost a child or had anything helpful to give to their investigations".
The regulator told MPs that there was "no corporate decision" to monitor Mr Titcombe.
Dr Paul Williams, Labour MP for Stockton South, asked why staff were "making disparaging, disrespectful remarks about people that have suffered great tragedy".
Outgoing NMC chief executive Jackie Smith said "it is a terrible situation".
She said: "Those individuals have been spoken to. It is appalling for Mr Titcombe and I deeply regret it."
MPs heard that some of the staff are no longer working for the regulator.
They were told that the NMC has started a programme of work of recognising the value that patients and family members bring.
After the hearing, Mr Titcombe tweeted that Ms Smith "treated me with utter contempt and I absolutely believe that lives were lost as a consequence".