Northern sets date for suspended train service restart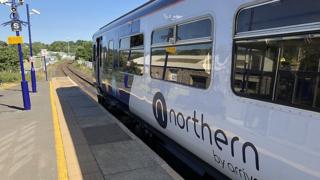 A timetable for the reintroduction of train services on a key line through the Lake District and across the north-west of England has been set.
All Lakes Line services from Oxenholme to Windermere would be fully reinstated from 30 July, Northern said.
A two-week suspension from 4 June had already been extended until 2 July.
Northern's managing director David Brown said the company was "truly sorry" the interim timetable "caused significant disruption" in the region.
But it had enabled the company to "accelerate our driver training, stabilise service levels, improve performance and significantly reduce last-minute cancellations", he said.
Northern had removed 168 trains a day from its timetable across the region.
The company said 75% of these suspended trains would be reintroduced from 30 July.
The remaining 25% would restart in September.
The phased reintroduction would enable further work to improve services across Greater Manchester, the operator said.
The firm has said a lack of trained drivers meant it had "no choice" but to halt services.
Services to be reintroduced on 30 July
Lakes Line: All services
Blackpool: All services from Blackpool to Manchester Airport and Manchester Piccadilly
Blackpool: Of 30 removed, 17 services a day between Blackpool South and Colne, via Preston
Lancashire: Ten daily services, out of 16, between Ormskirk and Preston
Lancashire: All 24 services on the Lancaster to Morecambe line
Lancashire: All four services between Preston and Blackburn
Manchester: Four services a day, of 10 removed, from Kirkby to Manchester Victoria via Wigan
Services to be reintroduced in September
Blackpool: The remaining 13 services between Blackpool South and Colne, via Preston
Lancashire: The remaining six services between Ormskirk and Preston
Lancashire: The six Blackburn to Southport services
Manchester: The remaining six services from Kirkby to Manchester Victoria via Wigan
Manchester: The 12 Manchester Victoria to Stalybridge services