Donald Campbell's restored Bluebird set for Scotland run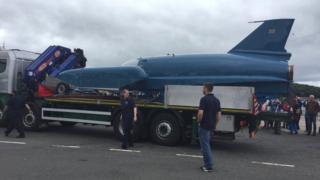 Donald Campbell's Bluebird will take to the water for the first time in more than 50 years this weekend.
The record-breaking hydroplane has arrived on the Isle of Bute in Scotland, where it will undergo tests.
Campbell, 45, was killed when the Bluebird K7 - travelling at more than 300mph - flipped and crashed on Coniston Water in 1967.
A team has been working on the restoration on Tyneside after it was salvaged from the lake in 2001.
Campbell was attempting to break his own water speed record of 276mph when he crashed.
Lead engineer of the North Shields project team, Bill Smith, said: "We have had five years of cataloguing everything that was salvaged and another 10 years of putting her back together.
"Every part has been cleaned and repaired. She looks absolutely beautiful now and she is how she should be."
The team has posted a photo of the restored boat being put on to a trailer for the journey to Scotland on social media.
After initial water tests are carried out in Scotland, it is expected Bluebird will return to Coniston next year, where it will run at speed.
"We'll be basically training ourselves on Loch Fad because no-one really knows how she will handle," Mr Smith added.
"Once this is done there's always been the hope that she'll be displayed at speed back in Cumbria."
The fuselage has been painstakingly rebuilt by the team, with almost all the parts having to be specially made.
The replacement engine was donated by De Havilland Aviation in 2007 and is almost identical to Bluebird's original Bristol Orpheus engine.
It was successfully tested in the reconstructed chassis for the first time in 2016 and Mr Smith, who was in the cockpit, described the experience as "absolutely amazing".
Campbell's daughter Gina, who has visited the restoration project, said: "It will be quite an extraordinary experience for me to see this boat after so many years.
"I don't quite know how my heart will react, but I'm sure it will be with great jubilation.
"The restoration project has been such a fantastic feat. I'm sure she will look absolutely fantastic."
Paul Hannaford, chairman of the Speed Record Club, which is also supporting the restoration project, said Campbell's achievements would "never be equalled".
Vicky Slowe, director of Coniston's Ruskin Museum, where a wing dedicated to Donald Campbell and Bluebird has been built, said they were confident it would return to Coniston at some point in 2019.
She said: "That's what we want and that's what Donald Campbell's daughter, Gina, wants."
Donald Campbell
Campbell was born on 23 March 1921 in Surrey and was the son of speed record breaker Sir Malcolm Campbell
He initially used his father's old boat Bluebird K4 in record-breaking attempts
In 1960 he survived a horrific crash in the US while trying to break the land speed record
The Bluebird K7 boat was already 12 years old at the time of the Coniston Water crash
He set eight world speed records - seven on land
Campbell's lucky mascot - a 9ins "Mr Whoppit" bear from 1956 - was recovered with his body in 2001