Eskdale Mill in the Lake District gets £1m revamp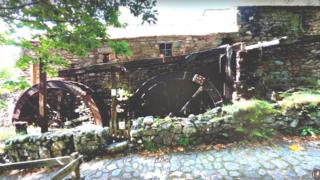 A 500-year-old corn mill in west Cumbria dating back to the reign of Elizabeth I is getting a £1m revamp.
Eskdale Mill in Boot is the Lake District's last operating water-powered mill and some parts of it date back to the Tudor period.
The Grade-II listed building was bought by the Eskdale Mill and Heritage Trust charity 12 years ago from Cumbria County Council.
The National Lottery and other bodies are paying for the repairs.
Trust chairman Paul Pharoah, said the charity bought the mill to save it from being redeveloped or put up for sale.
He said: "The mill was an important feature in the Lake District's bid to achieve World Heritage Site status.
"However, it is badly in need of repair and restoration, as might be expected from such a historic building dating back centuries, and the mill machinery is in sore need of some care and attention to keep it operating.
"It has been a long haul to get to this stage, since we first contacted Heritage Lottery about possible funding in 2013."
The trust is looking for volunteers to help run tours when the mill reopens in 2019.