Lakes Line passengers 'treated like cattle'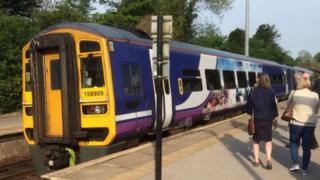 Rail passengers on a rural line in Cumbria are being treated "like cattle", according to a campaign group.
The Lakes Line Rail User Group (LLRUG) said people were regularly crammed into two-carriage trains, with more than 100 standing in corridors on one of the services over the weekend.
It has written to operator Northern, warning that more carriages are needed during the peak tourist season.
Northern said it was doing all it could to improve services.
Volunteers from the LLRUG act as "welcomers" who travel on trains offering advice on services and places of interest to passengers, who are mainly tourists during the summer.
'Disgrace and disgusting'
Robert Talbot, the group's chair, said: "[Northern] seems to think 'we've ticked that box, given them trains, what more do they want?'.
"But they've failed to look at the issue of the length of the train.
"What the foreign visitors must think of this - as a welcome to the Lake District - heaven knows."
The group has written to Northern outlining its concerns.
The letter detailed an account from one of the volunteers which reported that "upwards of 300 people" were crammed on board one train.
At least 100 people were standing "crammed in the length of the corridors and the vestibules", the volunteer noted.
He described it as a "disgrace and disgusting what cattle truck conditions passengers were having to put up with".
Northern said in a statement: "We have responded to the letter from LLRUG to advise that we are doing all we can, especially at the weekends, to improve services and have standby buses in position when required."