Record set at 10th stone skimming event on Windermere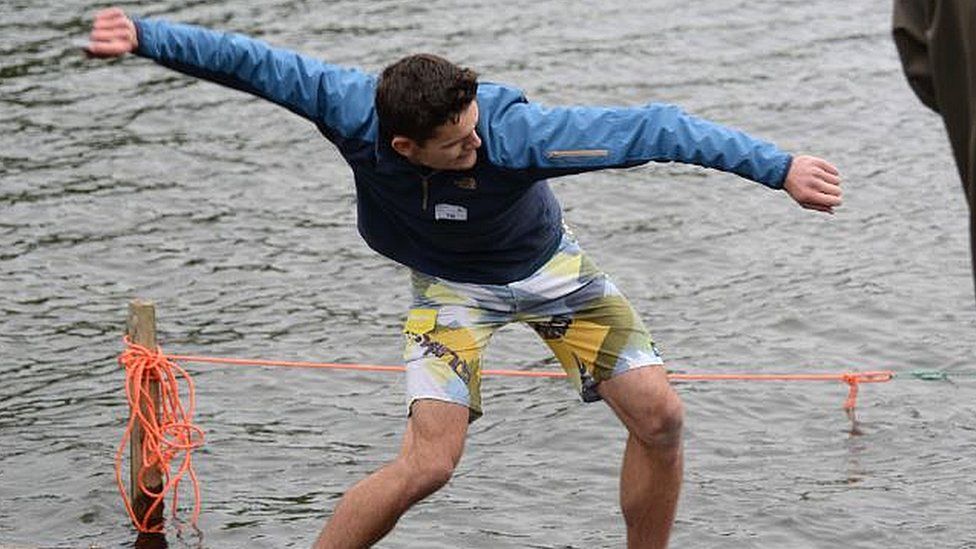 A new record has been set at a national competition for stone skimmers in the Lake District.
The 10th annual All England Open Stone Skimming Championships took place at Fell Foot Park on Windermere.
Newcomer Alex Lewis, 21, from Helensburgh, in Argyll and Bute, threw a winning 95m (311ft) - beating the previous record by 7m (22ft).
Hundreds gathered to watch Saturday's competition, which was organised by the South Cumbria Rivers Trust,
Competition rules stipulate stones no more than three inches wide must be sourced from the area and must bounce on the water a minimum of three times before sinking.
The event is open to all with those taking part paying an entry fee, part of which goes towards funding conservation projects at the trust.
The 2017 champion, Gareth Twamley, from Wales, was unable to attend this year's event.
Mr Lewis said he had been taught to skim stones by his father from the age of five.
Organiser Julius Barratt said: "We never imagined we would be celebrating our 10th anniversary with such an amazing demonstration of power and skill and a record of such an incredible distance.
"Last year's record-setting win seemed remarkable, but to exceed it by 7m is quite something."
Related Internet Links
The BBC is not responsible for the content of external sites.