Pair arrested over barn blaze that killed five horses and dog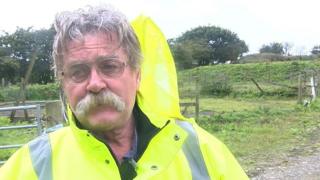 A landowner has described a suspected arson attack, which killed five horses and a dog that were the pets of his grandchildren, as "evil".
The "beloved" animals were locked in a barn in Cumbria and died in the blaze on land at Distington late on Saturday.
Devastated Paul Johnston said he was "only trying to look after" the animals and blamed himself "for loving them".
Police said a man, 43 and a 17-year-old male were arrested on suspicion of arson and released pending inquiries.
The fire caused about £60,000 damage to the site, near Workington.
Police have appealed for any witnesses to contact them.
Mr Johnston said: "I brought them in to look after them.
"If I had left them out it would have just been a barn and some saddles and bridles. Things that don't matter.
"I blame myself for loving them.
"Whoever did this would know that there were animals in that barn that simply would not be able to get out.
"I just cannot for the life of me understand why somebody would do such an evil, evil act."