Poppi Worthington death: 'Everything being done' to prevent police blunders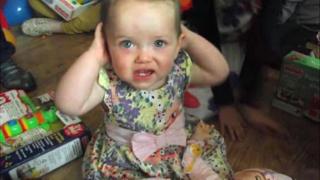 Everything "humanly" possible is being done to prevent police blunders like those made after the death of toddler Poppi Worthington, a PCC has said.
However, Cumbria Police Crime Commissioner Peter McCall said he would be "stupid" to say mistakes would never happen again.
At a meeting in Barrow he said lessons had been learned since the toddler's death in December 2012.
He also said that police had acted on 250 improvement recommendations.
A coroner ruled in January that the 13-month-old was sexually assaulted by her father Paul Worthington before she died of asphyxia.
The 49-year-old had been arrested on suspicion of sexual assault months after her death, but was not charged with any offence. He has always denied any wrongdoing.
A report by the Independent Police Complaints Commission found that crucial evidence was thrown away and witnesses were not interviewed for eight months.
Mr McCall tabled a report presented to the Cumbria Police and Crime Panel, chaired by Barrow Labour councillor Bill McEwan, the Local Democracy Reporting Service said.
"This report gives me the assurance that everything possible has been done by the constabulary to prevent another case like that of Poppi Worthington", Mr McCall said.
"Can I guarantee that such a thing would never happen again? I would be stupid to do that.
"We are dealing with people and people can make mistakes, but I think it's fair to say that everything humanly possible has been done", he added.
Poppi Worthington death: Key dates
The inquest: Review of evidence, findings and conclusion
Mr McCall said as a result of the errors made in the investigation, Cumbria Police had undergone thorough inspections in 2016 and 2017.
He said: "In the last six years, at each stage, it has been my job to monitor the progress and assure myself on behalf of the public that the police have been addressing these issues."
Subsequent inspectors had shown that Cumbria Police now demonstrated a "strong commitment to improving its services for the protection of vulnerable people", he said.
Mr McCall said inspectors found clear evidence of strong leadership and oversight by the chief officer team and senior managers in public protection.